Featured Speaker: Brian Basham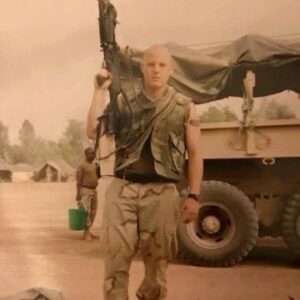 My name is Brian Basham, and I am a US Army Veteran. I graduated from Breckinridge County High School in May of 1999. I joined the Army on Feb 2, 2001, and I went to Ft. Sill, Oklahoma for basic training and AIT. I was also stationed in Ft. Sill, Oklahoma to 17th Brigade, 1/12th Field Artillery, Cobra Battery. I deployed to Iraq from March 2003 till April 2004 to help with the search of Weapons of Mass Destruction. While in Iraq, we helped build new playgrounds for the schools, cleanedup underground bunkers, lead convoys for civilian truck drivers, and other missions to help the needs of the operation.
I have been married for 13 years to Sarah and we have 2 beautiful daughters, Addyson and Avery. I work for the State of Kentucky as a Veteran Employment Consultant where I am a caseworker for disabled Veterans and spouses. I am heavily involved in the community of Owensboro and serve as an Ambassador for the Chamber of Commerce. I have recently started a Non-Profit with fellow veterans called V.E.T. (VeteransEmpowered Together) to help the Veteran community and the local Veterans Originations ensure a meaningful place in the community for all Veterans. I am a member of all the VSOs in Daviess County and look forward to being involved more in the community.
Ceremony Activities Include: The VFW 696 Honor Guard, a salute to our fallen heroes, the Community Band, singers, and dove release. Following the ceremony refreshments will be served at Christ Chapel.
Everyone is invited to be part of this uplifting Memorial Day celebration.
Call Betty Medley or Christy Taylor Chaney at 270-683-1505 for more information.